Relationship Break Up Advice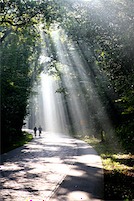 If you are dealing with a relationship ending, and looking for break up advice you are probably in a fair amount of emotional pain. This is normal. Ending a relationship, especially an important or long-term one, challenges every aspect of your being -- physically, mentally, emotionally, spiritually, and energetically. It can feel like your soul is being ripped apart. This hurts more than anything!
There is no magic bullet that can make the pain go away, but there are some things you can do to heal faster, more effectively, and just as importantly, to learn and grow from this experience.  The last thing you want to do is jump into another relationship before healing the parts of yourself that contributed to the unhealthy elements in your current relationship.
People who jump into the next relationship without doing some soul searching as to what wasn't working in their current relationship often end up recreating the same dynamics in a new relationship. It is as if they are "reading" off a script they have written, where both partners are cast in a role, such as "The Victim," or "The Betrayer," or "the Abandoned One," or "The Angry One." This can be very challenging for both parties because you never have a chance to truly start fresh without this baggage of past expectations and judgments.
This is why the most important thing you can do is take your time with this process. This is your healing time. This is where you want to be honest with yourself. Recognize your role in the dysfunctionality of the relationship. This is not about beating yourself up or feeling guilty. The reason to do this honest self-assessment is that you are the only one you can control.
If you are realistic and aware of what the problem is, you can begin to find a better solution for the future. In other words, you can change how you behave. You can work on your communication style. You can improve your ability to be there for the other person, you can set healthier boundaries in future relationships.
You are probably not wanting to hear right now that this experience can help you grow, but it will in time. The various articles in this section will help you to understand if you really want to end the relationship, and if you do, how best to handle it. 
It is possible to end a relationship well, or at least better. Read the article on break up etiquette to get some tips on how to best conduct yourself in a break up. There are articles here to help you handle your feelings of loss, anger, fear and grief. This is a challenging time in your life, but you can make some good decisions that will help you make better choices in the future.   

Go from Break Up Advice to Home

Look at this article on Saving Your Relationship

Look at Ending A Long Term Relationship Etiquette
-Need Immediate Help? Find Out About Our Telephone and Skype Counseling Special--Click Here