Understanding Women
Basic Survival Tips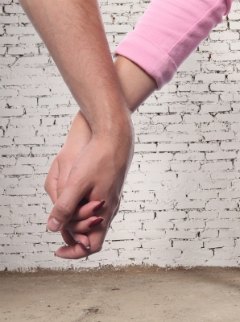 Even though women's brains are wired somewhat differently, a few basic tips can help you navigate the twists and turns of her emotions and her mind.  The first step to understanding women is not to expect her to think or feel the way you do. 

She is not a man, and logic may or may not be her top priority.  Especially if she is having a strong emotional outburst, it may look to her that your sweet woman has just had her brain hijacked.  What she wants from you is not so mysterious once you break it down to these seven simple strategies for success and healthy communication.

Understanding Women - Tip # 1:  Make Her Feel Special
Your woman needs to know that she is a priority in your life.  You have many things pulling on you, but every day take a moment to give her a sense of connection to you.  That could be through expressing your affection or appreciation in words such as "I love you," or "You look nice today." 
Or through gestures such as a sweet touch, hug, kiss, or other show of affection.  Or it could be an action that is important to her, such as taking the laundry out of the drier, washing her car, or another household chore that is important to her.  Don't do something that you like to do and expect to get points!  Do something that you know is important to her.
Whether you choose to express yourself in action or words, make sure it is something that communicates clearly and lets her know that she has a special place in your heart.

Understanding Women - Tip # 2:  Let Her Know You Appreciate Her
Women need to feel appreciated by you.  They need to know you don't take her for granted, but value her for who she is.  You notice how she cares, and the little things that she does to make your life nicer, such as making the bed, cleaning the sink, straightens the room.  It is important to thank her for small things, like cleaning up, making a nice meal, making sure you are comfortable, or being affectionate. 

If she feels that you notice the little things, and comment on them, it will motivate her to continue doing them.  Women don't always realize how important it is for them to be appreciated, but it goes a long way to making her want to do even more to make your life juicier.

Understanding Women - Tip # 3:  Women Want Your Respect
Your woman wants to know that she is your queen.  But more than that, she needs to know that you value her.  You believe in her goodness, her intelligence, her capacity to thrive, and her ability to make her dreams come true.  Maybe her dreams need some practical advice now and then, but she wants to feel that you fundamentally support her desire to express her true self and creativity. 
It is painful to be with someone who doesn't believe in you.  And there is nothing more delicious than being with someone who truly gets your deepest desires and supports you in achieving them.

Understanding Women - Tip # 4:  Let Her Know You Find Her Desirable
There are times in every woman's life when she doesn't feel lovable, beautiful or sexy.  This is a natural process of swinging high or low in her sense of self esteem.  While you can't "make" her feel sexy if she doesn't feel it from within, you can support her by letting her know with your eyes, your words, your touch, that she is desirable. 
Attention to her positive femininity will pay off big time because if she feels you want her, she will be drawn to your desire (as long as it is respectful and not imposed on her like a caveman!)  There are parts of her body that she thinks are all wrong, and she needs to know that they don't keep you from wanting to show her all your love!

Understanding Women - Tip # 5:  Find Out What She Needs
In any given moment if your woman is upset about something, chances are she hasn't expressed it in a way that is clear to you.  It is not always the issue she is complaining about, but something more fundamental that is bothering her. 
Sometimes there is an underlying need, such as the need to be heard, or seen for who she truly is, or to be safe, or to have empathy, or support.  Feelings such as anger, fear, happiness, sadness can be driven by deeper needs.  There is no point trying to negotiate feelings, because they are not the "ground zero" of the upset.  Once you can uncover the true, deeper level of needs, you are more likely to have a productive conversation. 

For example, if she is angry about you leaving your dirty socks on the floor, the issue is not really about the socks, the true issue may be that her need to be respected or appreciated.  It is this deeper need which is driving the intensity of the emotional reaction.  If you are not sure what she needs, ask in a pleasant "Please pass the salt" kind of neutral tone of voice: "What do you need from me right now?"  If you ask gently, even if she doesn't know in that moment, thinking about this productive, empathetic question will most likely shift her to a more cooperative state of mind.

Understanding what Women Want - Tip # 6:  Put Your Focus and Attention on Her Pleasure
There is a saying: "A happy wife is a happy life."  Making sure that she is happy will go a long way to insuring that she is motivated to keep you happy.  When she is unhappy, she will show it one way or another. 
Sex is often the first thing to disappear when she is unhappy about something entirely unrelated.  So put your attention on her pleasure in every area of her life.  A big key to understanding women is to learn to ask her: If you don't know what will make her happy in this moment, ask her, in your kind, gentle voice: "What can I do to make you happier right now?" 
Even if she doesn't know, this will probably set your conversation on the right track.  Even if she comes up with a ridiculous request, see if you can listen for the underlying need that is the driving force behind the request. 
For example, if she answers: "I want you to stay home every weekend!"  You can say something like: "Sounds like you are really wanting some of my undivided attention."  If you do it right, she will calm down, because she will feel that you are really hearing her deeper message.

Understanding Women - Tip # 7 – Show Her and Tell Her You Love Her Every Day
There are many ways to let your woman know you love her.  The trick is to find out which ways work best for her, or work best for her mood cycles.  In other words, does saying the words "I love you," open her emotional safe?  Does a certain touch do it?  A look of appreciation and arousal in your eyes?  A certain hug or squeeze?  What does it take to make her open her heart to you?  You need to experiment and see what works best. 
What worked with your last girlfriend may do nothing for your current love.  All women need regular demonstrations of affection.  Bring home one flower, even a wild one, buy a funny card for no reason, and write something sweet and personal. 
Bring her a favorite dessert.  Make sure you know her favorite color, and find something in that color, or a trinket she collects, and look for unexpected times to give any of these items to her. 
The unexpected gift is worth its weight in gold.  Women are like delicate orchids and need your tender loving care.  But it's worth it!  Show her you love her, and she will show you twice as much that she loves you!

Read our other articles on healthy sexuality, to get your love life back on track.  We are available for private coaching sessions to help you understand women and have the relationship you truly deserve.
Go From Understanding Women to Advice For Men
-Need Immediate Help? Find Out About Our Telephone and Skype Counseling Special--Click Here